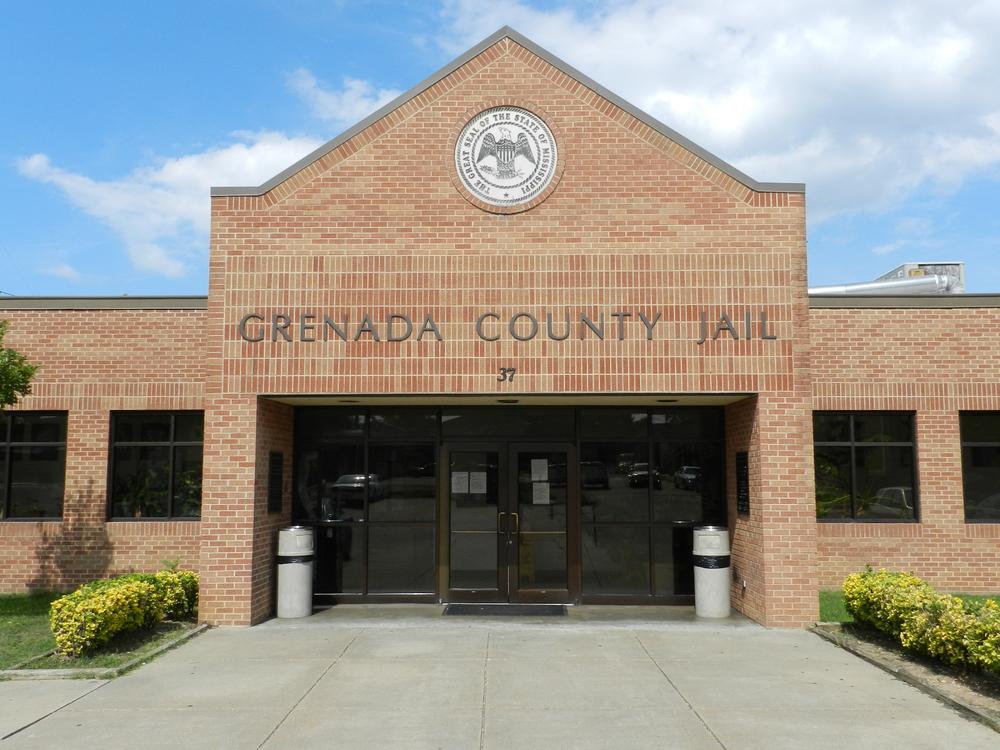 GRENADA COUNTY JAIL
The Grenada County Jails primary duty is to serve our community by providing a safe, secure facility where people are treated with dignity and respect and learn to be accountable for their actions.
The Grenada County jail houses those charged and awaiting trial, those arrested on warrants, those serving sentences at the county jail, those placed on holds by Parole and Probation, those sentenced to and awaiting beds in the state prison system or Community Corrections, those sentenced by municipal courts in our county as well as others placed here on holds for other agencies.
The Jail can house subjects accused of all levels of charges. We are responsible for securely holding all of these individuals as well as providing a safe environment. Pretrial confinement is not for punishment purposes. It is merely to assure that the arrestee appears in court. Sentenced inmates, on the other hand, are here as punishment for their offense. It is the responsibility of the deputies and civilian staff to make productive use of the inmates time, but not to inflict further punishment upon them.
The Grenada County Jail is supervised by the Facility Warden, Mr. Pat Jones.
The Grenada County Jail is composed of two facilities. The first facility, the main jail facility, is located at 37 Doak Street in Grenada, Mississippi. It was constructed and officially opened for use in 1997. This facility was paid for by the taxpayers of Grenada County, and has the capacity to house approximately 210 inmates. This facility houses county inmates, state inmates, federal inmates, non-state inmates from other jurisdiction (that do not have a jail facility) and inmates from other municipalities within Grenada County.
We are very fortunate to have a Joint State/County Offender Work Center that houses as many as 70 state inmates that are low risk inmates. These working inmates provide free labor to Grenada County and are used for custodial work, and within the county on a daily basis. The Joint State/County Offender Work Center was constructed and officially opened for use in 2009. This Facility was also paid for by the taxpayers of Grenada County.
The mission of the Grenada County Jail is to provide an integrated and holistic delivery of individual treatment programming to the inmate population. To facilitate this mission, the jail shall provide the following opportunities, programs and/or services:
Substance Abuse
To include, but not limited to, group discussions, individual sessions, didactic presentations, lectures, community meetings, alcohol and drug programs.
Educational Programs
To include, but not limited to, programs such as Adult Basic Education and General Education Development. All classrooms will meet the relevant criteria established by the Mississippi Department of Education. The curriculum will meet the Mississippi Department of Education's requirement for Adult Basic Education.
Counseling Services
To include, but not limited to, religious programming and counseling services upon need and/or request, Pre-release counseling to assist inmates in entering the job market and educational counseling services to assist inmates in furthering their academic goals.
Family Interaction/Services
To include counseling, continuing education in the areas of parenting, relationships, etc., and services which deliver information concerning incarceration and relapse prevention.

Community Interaction/Services
To include programs which provide meaningful interaction within the local community and involve inmates in community in community service projects which benefit the institutional community and the free world.


Inmate/Visitor Information
Visiting an inmate – Grenada County Jail is open Friday thru Sunday for Iinmate visitation.
Each inmate is allowed to fill out a visitation list with 6 visitors. Each visitor must have a valid state identification.
All visitors age 18 and older must present an acceptable photo ID if attending "Offender Visitation." Children ages 17 and under are not required to present photo ID if attending "Inmate Visitation, but must be accompanied by an adult." Acceptable forms of identification will include valid State Driver's License, State Identification Card, Military ID Card, and others as determined by the Shift commander.
The photo ID presented by the visitor will be retained and returned to the visitor upon their departure from the facility. Children under the age of three will not be permitted to attend "Inmate Visitation".
● There will be no exceptions to these guidelines except by order of the Jail Administrator/Deputy Jail Administrator
General Procedures
At all times while on the grounds of Grenada County Jail to include the parking area, a visitor is subject to search of his person, vehicle, personal property, or any/all items one may have in his/her possession. Guns, knives, ammunition, alcohol, drugs, weapons, or any instrument or tool that may be used as a weapon, or any other items declared by the jail to be contraband are strictly forbidden. Contraband will be confiscated and violators will be prosecuted to the full extent of the law.
Visiting hours
1st & 3rd weekend of the month – A – L (state inmates only)
2nd & 4th weekend of the month – M – Z (state inmates only)
Males Females
Friday – 1 pm to 5 pm Sunday –1 pm to 5 pm
Saturday – 8 am to 12 pm
1 pm to 5 pm
Sunday – 8 am to 12 pm
Mail
How to send mail to an inmate. The mail shall have a sender's and return address on the outside of the mail. Send all mail to the following address:
Jail Solutions
Grenada County Jail
(Inmate's Name)
37 Doak Street
Grenada, Ms. 38901
How to send funds to an inmate
Grenada County Jail will only accept money orders. The money order must be written out to Jails Solutions.
As follows:
Pay to the order - Jail Solutions
Memo – Inmate Name
Sender's Address
Sender's Signature
Inmate Telephone
Grenada County Jail telephone service provider is called Securus. If you are experiencing problems relating to an inmate/customer telephone please contact customer service center at 1-800-844-6591 for account information or billing inquiries. To enroll and open an account with Securus go online and type in www.securustech.net. Securus offers auto pay and text pay.
Jail Physical Address
Grenada/Jail Solutions
Grenada County Jail
37 Doak Street
Grenada, Ms. 38901
Contact us
(662) 226-6212– phone
(662) 226-1117– phone
(662) 226- 9293 – phone
(662) 226-3195– fax